4.3 What Are the New Skills needed for the AI and Automation?
Application and spread of the AI in the work processes will create a wide range of new skills needs (McKinsey, 2018):
Demand for advanced technological skills such as programming will grow rapidly. There is also a lack of sufficient understanding of technologies to lead the organization through the adoption of automation and AI.
Increasing demand of the key skills and competencies: social, emotional, and higher cognitive skills, such as creativity, critical thinking, and complex information processing, basic digital skills.
Demand for physical and manual skills will decline but it still will remain the single largest category of workforce skills in 2030 in many countries. Demand for all physical and manual skills and for basic data input and processing will decline, while growth will be strong in demand for interpersonal skills, creativity, and empathy. Advanced IT skills and programming alongside complex information processing skills will also see a surge in demand.
There are expected declines in the need for basic cognitive skills, particularly the basic data-input and -processing skills used by data-entry clerks and typists and in a range of back-office functions.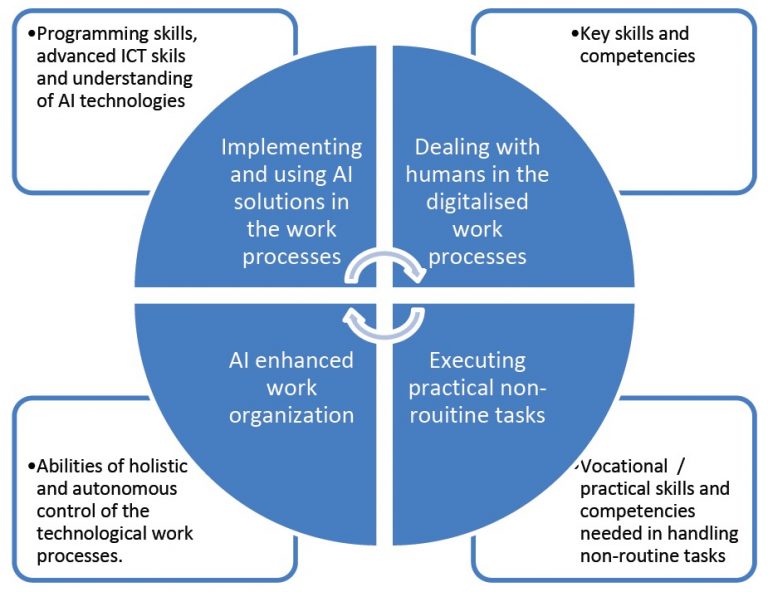 One of the significant trends of the development of work processes and technologies under the 4th Industrial Revolution and, especially, AI is increasing volume of autonomous self-control of the production processes executed by the production technologies, like automatization of the production and transport chains. Such trend of self-management of production process means decentralized control of the autonomous objects of logistics and production in the hierarchical organizational structure (Gorldt, 2017). Such trends reduce the importance and demand of skills and competencies in the work organization and execution. Despite of that, human workforce plays important role in the introduction, launching, maintenance and functioning of the technological solutions and innovations of the Industry 4.0 (Hirsch-Kreinsen, Ittermann, 2017). While dimension of production automation follows the logics of technological rationalization and leads to the reduction of dependence of work execution on the human workforce (and on related skills and competencies), the dimension of informatization of work indicates increasing access to and consumption of information and data in the work processes, thus opening new field of acting for humans and new roles for their competencies (Hirsch-Kreinsen, Ittermann, 2017).
This audio provides some interesting insights about the skills needs created by the application of the AI technologies.
These videos provide different expert insights about the implications of the AI and digitalization of work for the skills needs: