4.5 Interdisciplinarity and Eroding Occupational Boundaries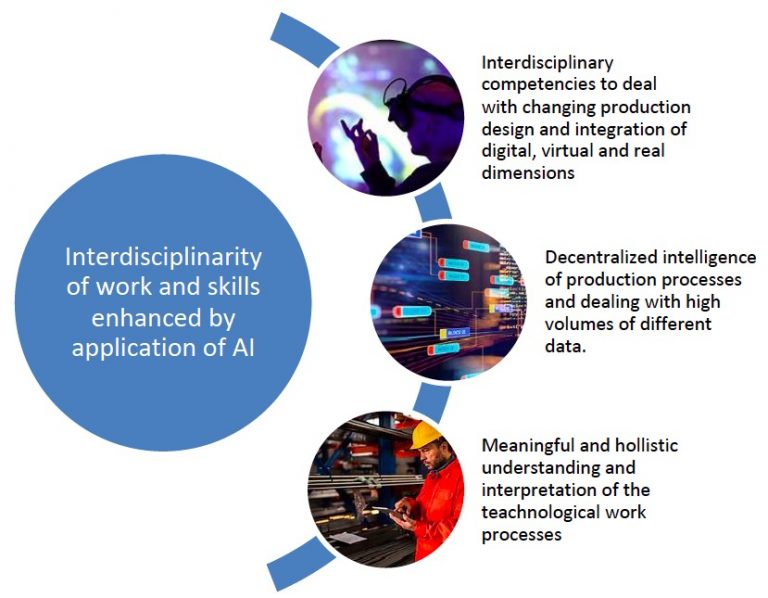 The application and development of AI-based technologies challenge the traditional boundaries of disciplines, knowledge and competence areas.
For example, the application of sensors and activators with networking of the cybernetic-physical systems (CPS) increases productivity but at the same time requires interdisciplinary individual and collective competencies that integrate the knowledge and skills from the fields of machinery production, electronics and information-communication technologies (Gorldt, 2017). Such erosion of the disciplinary and occupational boundaries of competencies is also enhanced by such features of changing industrial production, as virtuality, individualization and high flexibility of production processes, integration of digital, virtual and real dimensions of production process, increasing transparency of the executed production processes (Gorldt, 2017).
The decentralized intelligence linked to Industry 4.0 leads to an increased availability of data that is highly process-relevant to skilled workers. Maintenance still requires traditional manual skills as well as the mastering of SPS, robotics, pneumatics, hydraulics, drive technology etc. These, however, are no longer sufficient. Simply amending occupational profiles will not be enough. The authors of the bayme vbm study (2016, 4) call instead for a massive amendment of process orientation in occupational profiles. The perspective of maintenance processes has to be considered based on the process of informatization. Occupational and advanced training profiles must focus on these central developments.
The baymee study (2016) claims, that if future development of production technologies will focus on assistance/support systems and if skilled workers on shop-floor level are given the chance for co-shaping, Industry 4.0 can be used as an "assistance system", where skilled workers and technological applications would thus control and influence one another, whilst the power of decision remains in human hands. In the same time, skilled workers have to deal with increasing demands in terms of system data interpretation. Analytic capability and thinking in networks are prerequisite in order to deal with abstract information and to gain a swift overview of the production process. The AI cannot replace the skilled workers by the automated control of plant conditions, where skilled workers support them with troubleshooting, assessing damage and analyzing causes. Such work processes as maintenance also need skilled workers who act as decision makers, controllers, maintenance staff, co-shapers and experts.
The above mentioned study on the implications of the 4th industrial revolution for the initial and continuing vocational training in Bavaria and Baden-Würtenber (Spöttl et al, 2016) disclosed the increasing demand of systemic understanding and cognition of the work processes and technologies, what enables their planning and design. The widening of the contents of work processes requires holistic understanding of the work and technological processes and abilities to process the systemic data and information of these processes. Decentralisation of the intellect enhanced by the AI leads to the saturation of industrial work processes with data. These trends, especially process orientation, networking and data analytics become new objects to be integrated in the vocational education and training processes and practices, especially in the VET curricula. The study outlined and described general occupational and professional fields that are influenced by the Industry 4.0 and related new competence requirements: design and simulation of equipment, installation of networked equipment, exploitation and maintenance of equipment by applying process data management in production systems, monitoring of equipment by applying real-time data monitoring, analysis and assessment, process management by ensuring it's safety through monitoring, diagnostics and repair of faults, production data management and optimisation of production processes.
While networking of the production increases the volume and contents of the processed data and CPS and Big Data provide solutions to cope with these challenges, the meaningful interpretation and evaluation of data contents is reserved to humans (Pfeiffer, 2017). Employees with the qualifications at all levels have to be prepared to deal with the real-time data of production processes and to react to the requirements of the process management and optimization. Skilled workers become more responsible executors, problem solvers and operators of production processes also taking responsibility for planning and project-based work.
AI based technological innovations in the field of networking of physical and virtual digital world, integration of the mechanical-electronic production processes into unified digitalized business structures and digital networking through an Internet of Things and Services would require skilled people with different backgrounds and competencies to deal with these intersections between cyberspace and physical world (Pfeiffer, 2017). These functions will be executed by master craftsmen and technicians playing the role of mediator at the above-mentioned interfaces by linking mechatronic processes and plant engineering with the information technology. It pushes towards greater integration of various professional fields in the hybrid occupational profiles, leading to enrichment of the existing training curricula with the special ICT-related knowledge (Pfeiffer, 2017).
The below provided audio and videos are helpful in better understanding of the implications of the AI application for the erosion of disciplinary boundaries in the work and learning.